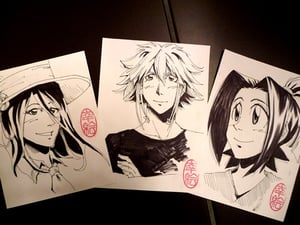 $

25.00
100% of profit goes to Médecins Sans Frontières (Doctors Without Borders).
One smiling ink headshot of your original character (or other character of your choice) on approximately 4 x 6" lightweight cardstock paper. The original will be mailed to you once I've finished all the commissions. Comes with a postcard-sized print of my Calvin & Hobbes tribute "Best Friends" that I give out at conventions.
Once you've made this purchase, I'll e-mail you requesting reference pictures or descriptions. Will ship anywhere.
Inspired by Takehiko Inoue's "Smile" drawings on Twitter.